This article was originally published by the Long Island Herald by Jordan Vallone.
The Garden at St. Francis Episcopal Church, in North Bellmore, is known around town as the place to go for local, sustainable produce.
It was founded by volunteers 12 years ago, and not much has changed in terms of who's working in the garden — it is cared for by a staff of loyal volunteers of every faith, background, age and physical ability.
But what has changed is who is leading those volunteers: Last summer, the garden welcomed a newcomer, Kristin Talbot.
Talbot, 31, who grew up in Wantagh, said she used to drive past the church and garden, but never realized it was open to nonmembers of the church. She was interested in volunteering and gardening.
"I was always a little environmentalist at heart, and craved adults who could teach me how to work with the land and turn that into a career," she said. "I didn't find that in this area when I was in high school."
Talbot earned a degree in environmental studies at the University of Vermont, and said that while she was there, she developed a passion for connecting people to the land and fostering a sense of spirituality when working with the earth.
A few years ago, she was working as a preschool teacher and looking for a part-time job to take on amid the coronavirus pandemic, when she stumbled on the job opening for a garden manager at St. Francis, just before last year's garden season. "Though I was always really spiritual, I didn't feel accepted in my home faith because of their anti-LGBT views," she said. "I knew this little church around the block flew a Pride flag — and I didn't know anything else about Episcopal churches.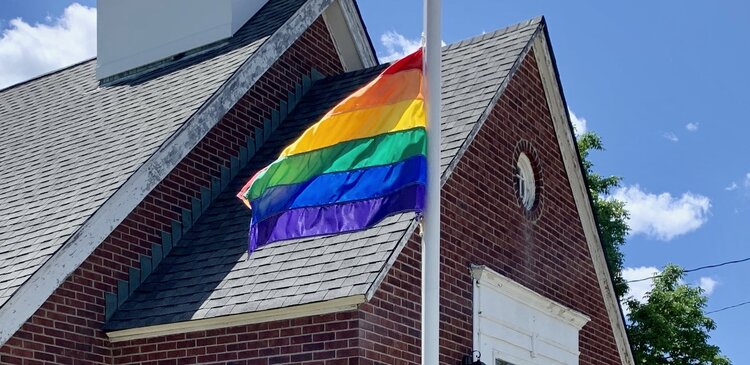 "I just knew that they were different than what I had known," she added. "And I felt like I could get behind them, and work with them, because of that."
By all accounts, the community that Talbot now leads is a safe and welcoming one. She has preserved the garden's values and blended them with her background and knowledge. For all her efforts, the Herald is proud to name her its 2022 Person of the Year.
"In the short time she's been there, she's really transformed the entire place,"
Liz Morales, a volunteer at the garden, said. "It's an incredible, different experience than any other garden I've been to — and I think Kristin plays a major part, in what she brings to that garden."
Throughout the spring and summer, the garden hosts produce pickups, giving food to veterans or seniors at no cost. Whatever is left over is donated to pantries in or near Bellmore, and to food banks that serve the needy.
"We at the Garden of St. Francis want to provide opportunities to connect with each other for a common purpose," the church's pastor, the Rev. Grace Flint, said.
"In this case, addressing food insecurity in our neighborhood, providing a place for people to get local produce, and caring for the earth which God entrusted us."
Image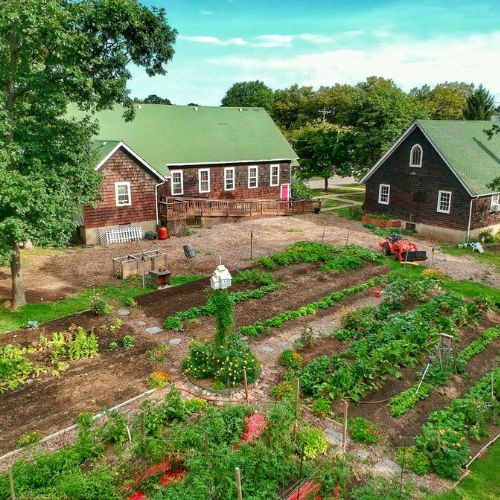 Meri Halem, another volunteer, said that what the garden does to combat food insecurity under Talbot's leadership is vital. "People are hungry — people don't have food," Halem said. "And I thought to myself, 'What are we doing here?'
"People are just so attracted to (Kristin) — they realize she's an apostle, she really is,"
Halem went on. "She's just incredible. People know — they feel the dedication, they feel like there really is something that is being done here."
Aside from the extensive work the volunteers do to combat food insecurity, they also welcome people of all backgrounds. The garden has connections with the Helen Keller Services for the Blind and Life's WORC, an organization that works with those with special needs.
"People of all abilities and ages are welcome to come here," Morales said. "Whether (you have) a sight or hearing impairment, whatever disability it is, you're invited, and (Kristin) will work with you on that individual basis. It's just an incredible education for everyone that steps foot there."
Talbot, who now works full time as the church's office and garden manager, credits a lot of its success to the people around her. "We've had a lot of people and community members reach out to us for many different reasons," she said, "and we've kind of been saying yes to everything that we know is going to lead us in the right direction."
One of the things Talbot has said yes to is taking on an intern. Lily Yepez, a senior at Mepham High School, connected with Talbot this summer, and spends three school periods at the church and garden every other day. While she never imagined interning at a church, Yepez said, working with Talbot has been fulfilling.
"Everybody is like-minded and wants to help the person next to them and the community in general," Yepez said. "I really learned that this is exactly where I'm supposed to be — this is definitely the jumping-off point to what I want to do for the rest of my life."
In her time at the garden, Talbot has focused on sustainability, and promoting healthy garden practices at home. The garden now participates in many programs, such as Pollinator Week, which educates volunteers and neighbors on what creates a healthy ecosystem.
"One of the reasons that we're here is to educate our community, and also change the culture of how we view nature," Talbot said. "St. Francis is the patron saint of ecology, so we have a lot of liturgy that grounds us in that philosophy. We use that as how we emotionally connect with people out in the garden — and that's what people respond to."
She credits the Episcopal Diocese of Long Island for supporting St. Francis's mission. "Our dioceses is very invested in creation care ministries," Talbot explained. "They give us funding and grants to help some of our projects, and without their support, we wouldn't be nearly as prolific in the community as we are.
"They not only give us guidance, and you know, financial support, but we also have access to a lot of different people involved in other ministries on Long Island that do similar work."
Halem said that the community is a better place — and sees the good that comes out of the garden — because of Talbot. "We're a neighborhood really changing history — we're like an ecosystem," Halem said. "I can look up and say, thank you God, for having given us this garden, and all the tools that we need to really be able to make a difference and to help others."