Even before the pandemic, Bushwick residents weren't getting enough healthy food. The demand for affordable, healthy food increased dramatically during the lockdown – as did the response from a local congregation working to establish a feeding ministry. Bushwick Abbey + Iglesia de Santa Cruz – two congregations worshipping in the same Episcopal Church just off the L train – describes itself as "a queer-friendly Christian community celebrating faith, art, and justice."  
The demand for food assistance in the neighborhood was evident to both Vince Anderson, Minister of Music and Community Arts, and The Rev. Nell Archer, Vicar, almost immediately in the Spring of 2020. They knew it was time to rethink their nascent feeding ministry, "Tiny Purple Pantries", because the pantry required restocking up to seven times per day at the peak of pandemic-driven food insecurity.  
Image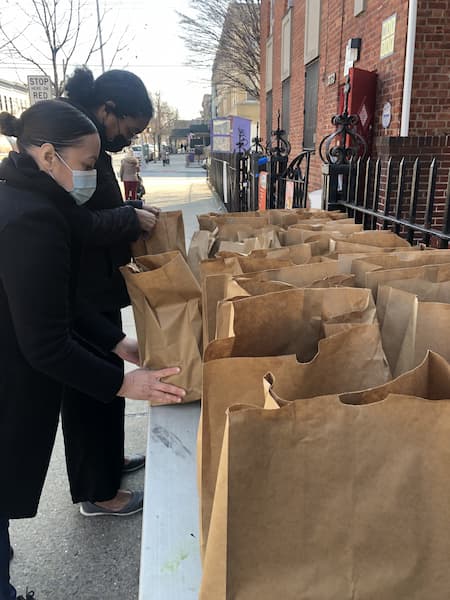 Mother Nell and Vince turned to another community feeding ministry originally financed by Episcopal Ministries of Long Island (EMLI) – the North Brooklyn Angels. Since EMLI provided the initial seed funding necessary to buy the (now infamous) "Angelmobile" back in 2016the ministry has expanded rapidly – serving up to 3,700 meals per week during the pandemic and even opening a cafe in early 2022 where 40 percent of the proceeds are re-invested in the ministry.
Volunteer parishioners from Bushwick Abbey and Iglesia de la Santa Cruz began partnering with the North Brooklyn Angels to distribute hot meals every Tuesday, in addition to continuing the collection of nonperishable food items and frequently restocking the Tiny Purple Pantry. But they couldn't stop there.
Mother Nell and Vince know the Bushwick community extremely well. They've formed dozens of steadfast partnerships that became vital as their once hyper-local feeding ministry continued to draw in more people in need – and more volunteers. A local restaurant and café donated what would become "St. Nick Fridge," allowing the project to start up in September of 2021 – ahead of schedule. Because of this donation, they redirected funds made available from their Episcopal Ministries grant to buy nutritious food and other essentials.
Image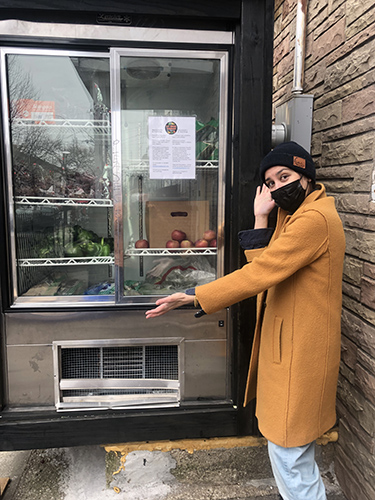 Vince notes that, while there was a decent amount of interest in a feeding ministry before the pandemic, "people used to be more guarded. Once the pandemic hit, we saw this inspiring outpouring of love and care for each other. It fueled the ministry just as we were ready to expand."
Vince is also an active member of EMLI's Affinity Group for Feeding Ministries. While the fridge was still in its start-up phase, Vince said that "[Affinity Group] meetings gave me both valuable information about what other food programs are doing, and much needed inspiration and fellowship. EMLI made me feel less alone and helped give me perspective and confidence while doing this at times frustrating and heartbreaking work."
Mother Nell's personal minivan – dubbed the "church van" – has become a vital part of the ministry, as transportation in Bushwick is traditionally a challenge and many people get around more easily without a car. Local restaurants began to donate dozens of hot meals on a weekly basis and Mother Nell is often in her van collecting these meals, bringing them back to the church, and distributing them at a small station set up right on the heavily trafficked sidewalk.
Since its installment, the fridge has become a hub in the community. When food is delivered, Vince often asks people passing by on the sidewalk to quickly pitch in and help him stock the fridge. Twenty-five volunteers load the fridge and distribute hot meals to roughly ninety people each week.
Experts studying the food challenges in Bushwick and New York City at large suggest that, so long as high inflation and the housing crisis persists without significant wage increases, food insecurity will continue to plague communities – particularly communities that were already marginalized before the pandemic.  
Episcopal Ministries is thrilled to support the St. Nick Fridge as part of its "Upholding Human Dignity" ministry focus area. EMLI is grateful to Mother Nell and Vince for their leadership in galvanizing community support for this vital ministry.