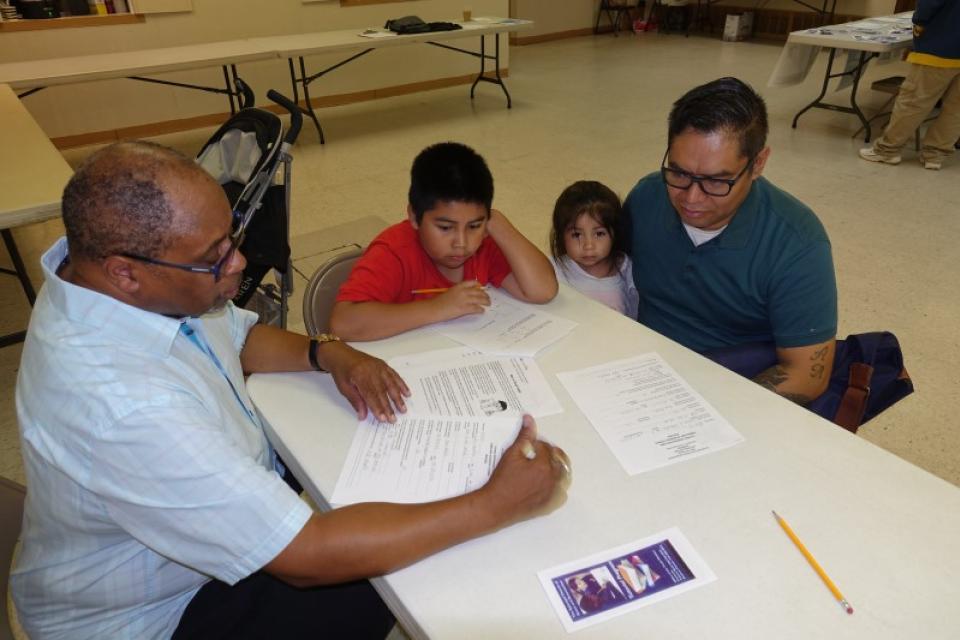 Tutoring and ESL Program in Queens meets community needs; equips diverse learners with educational environment fostering curiosity and creativity
When Valerie Reid and Aimee Williams speak about the Tutoring Enrichment Program they manage at Grace and Resurrection Church in East Elmhurst, Queens, sheer joy radiates from their smiles. They are eager to share teaching techniques, success stories, and the abundant memories they've created with their deeply loved students.  
Valerie and Aimee, along with their program colleague Andrew Petrez, have a combined 60 years of teaching experience. They are acutely aware of the needs of learners in their community: children a few years behind the ideal reading level, middle schoolers struggling to keep up with increasingly difficult math, and even adults wanting to expand their English vocabulary to better manage their local businesses.  
Image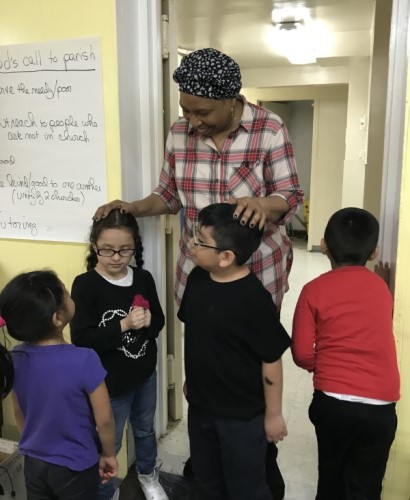 The three educators started the Saturday morning tutoring program at Grace and Resurrection after Valerie, who worked previously as a canvasser with the New York Public Interest Research Group, canvassed East Elmhurst and Corona – going door to door and church to church – to understand what kind of program would best suit the needs of these communities.
When it was clear that many parishioners and community members would benefit from an academic support program, the trio of educators began recruiting other teachers in the parish to meet the needs of nearly 30 local students. Saturday tutoring programs began in the church classrooms and students received age-appropriate individual and group attention in Math, English, and Science.
When the ever-changing Queens neighborhood welcomed many new families, the group decided to canvass the neighborhood again to better understand the needs of their new – mostly immigrant – neighbors. Valerie introduced herself and the tutoring program to local business owners and hung flyers in Hispanic grocery stores, local car mechanics, and other high-traffic areas. After this second round of canvassing, the teachers launched an English as a Second Language (ESL) course on Tuesday and Thursday evenings. That program currently has nearly 20 adult students.  
Valerie met one mother during her canvassing, Arabela Pérez1, as she worked at the Pérez family flower shop. Arabela was concerned about her daughter's reading level and began to bring her to the Saturday tutoring program. When her daughter enjoyed it so much, Arabela began to come to the ESL classes, as she felt that improving her English would allow her to grow her flower shop business. Many of the ESL learners a use the program as first step in enrolling in a GED program. Obtaining a GED opens the door to many entry-level and civil service jobs, improving the learner's ability to attain gainful employment and maintain financial independence.
Over time, Arabela and her family began to connect with the teachers. Her husband worked long hours and they emigrated to the United States from Mexico hoping for a better life for their family. Valerie reflects,  
"As a Jamaican immigrant, I immediately connected with Arabela. My family came here for the same reason – we all are hopeful for a better life, and we all want the best for our families. I'm proud that these educational programs allow people to support their families and enrich their communities simultaneously. Our program now is as multicultural as Queens! We have Hispanic, Arab, Asian, and West Indian students. It really has become one beautiful melting pot – we've become a family. Yes, we are learning with a program that's aligned with New York State curriculum, but we're also learning how to respect and honor each other's cultures. We're learning that we are better together than apart."
When schools were required to close during the pandemic, the teachers urgently began to research ways to continue their tutoring and enrichment program from home. Many students became increasingly vulnerable during this time, as already at-risk students began to encounter the many challenges that come with remote classroom instruction.  
With financial support and technical guidance from Episcopal Ministries of Long Island, the program continued online with new teaching software called MobyMax. The new program allows the tutoring program's ten volunteer teachers to align their curriculum with New York State Department of Education standards, identify areas of where students need additional support, allows students to work towards goals anytime they wish, and gives parents an opportunity to oversee their child's work.
The teachers conducted a thorough training on MobyMax for parents and students in both English and Spanish. Each learner begins with a placement test to identify their needs. Aimee notes that,
"This placement strategy allows us to meet the students where they are and give them individualized attention. In some cases, rigorous testing at school can make students feel inadequate. Instead of duplicating that difficult learning environment, we do our best to remove from the stress of school so students can be curious and creative as they learn. They trust us enough to be vulnerable, and only then can they be brave as they learn."
Valerie elaborates on this, noting,
"It's my love for children that keeps me going when the work inevitably gets difficult. If plan A doesn't work, we'll try plan B. If it's not plan B, we'll go to plan. These students know that we will not give up on them or write them off. We are here to provide a pathway for them to succeed, with God's help."
As the program continues virtually on Saturday mornings, the students are prompt to join at nine in the morning. Attendance is very consistent and it's clear that they are happy to be reunited with their tutoring teachers after a week of regular classes. Aimee notes that "what permeates every week is how excited they are to be with us. And we're excited to be with them too."
Both teachers expressed gratitude for the support that Episcopal Ministries has provided. Valerie said:
"We have been tremendously blessed to work with Episcopal Ministries. They have allowed us to continue to be of service, even when teaching became extremely difficult. We received technical support to set up online learning. We attended the EMLI grant writing workshop to help make our ministry sustainable. The reason this program has been so successful is because of faithful volunteers who love children, feel called to serve, and who receive support from community partners."
---
This ministry is supported by Episcopal Ministries of Long Island's Parish Mission Grants. Episcopal Ministries is deeply grateful to Valerie Reid, Aimee Williams, and Andrew Petrez for their work and for this interview. You can learn more about how Episcopal Ministries is resourcing and amplifying ministries across Long Island on our website and make a gift to support this work.