Author: Joe Smith
Self-described chili master, knucklehead, and tail-lift expert, Dan Diviney rose to the frontlines of emergency response with the outbreak of the COVID-19 pandemic. "I moved my 40-quart pot and bean soaking vats into the kitchen at St. John's Episcopal Church, Huntington and called up volunteer firefighters to start buying fifty-pound bags of dried beans."
Dan has been running Project H.O.P.E. (Helping Other People Eat) since the young adults attending his youth ministry bible camp heard a presentation from a St. Vincent de Paul volunteer back in the summer of 2005. They were eager and ready to do their part feeding the hungry right around Huntington Station, and Dan has been looped in ever since.
Before the pandemic, Project H.O.P.E. – a completely volunteer-run organization – had never spent more than $20,000 in one year.
But Dan's lifetime of forging strong connections in his church and neighborhood, and the loving and lighthearted spirit he approaches his ministry with, was about to be expanded and tested like never before.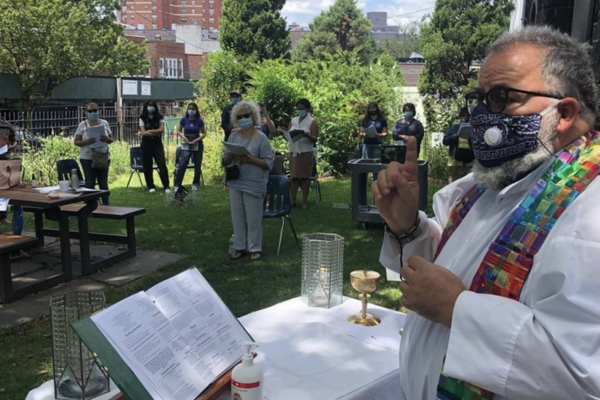 Dan, his wife Sue, and their niece Alyssa, began cooking and packing meals of hard-boiled eggs and a three-bean salad in the St. John's kitchen. Local organizations addressing food insecurity, including Family Service League and Tri CYA, would safely pick up and deliver cooked meals in and around Huntington Station.
Within months of lockdown, Project H.O.P.E. raised $150,000 to continue and expand their role as frontline emergency responders to the increasing and devastating levels of food insecurity across Long Island. A portion of those funds was provided by Episcopal Ministries of Long Island's COVID-19 Frontline Funds.
"I figured out a way to boil seven and a half dozen eggs at a time," said Dan, who is a true mastermind when it comes to getting the most out of donations. "Forget frosted sugar cereals - I have to feed two to three thousand families a week. That can only happen if I'm buying dried oats, rice, and beans at wholesale prices."
In the beginning, their response was solely about ensuring that people didn't starve - Project H.O.P.E. volunteers, including several from St. John's, were working daily just to meet the most basic needs of community members. However, as the pandemic went on, all types of people began to wait in line for hours to get a bag of food. "People of all races and ethnicities – Hispanic, white, Black, and Asian – were in need," says Dan.
As donations flowed in, they expanded the project so that families would receive the dried goods themselves along with a half gallon of milk and a dozen eggs. When food preservation became a challenge, Dan's brother-in-law connected him with a company that donated a massive refrigerator that they set up in the parking lot of the fire department.  
Dan used quite a few personal connections to expand Project H.O.P.E.'s food distribution – "I've never been afraid to ask anyone for anything," he laughs. "If I can volunteer and coordinate and run it, I'll ask you for anything."
A few months into the dried foods distribution, Dan's son, Michael, connected Project H.O.P.E. with a USDA grant through his company, Green Top. With this grant, a tractor trailer stuffed with over one thousand boxes of fresh produce was delivered to St. Hugh Catholic Church twice a week. After a few weeks, the same grant started providing boxes with even more food items.
"These boxes had a gallon of milk, an egg product, cheese, vegetables, fruits - it had to be over fifty dollars a box and we were getting six thousand boxes delivered a week at no cost to us - we just had to deliver. This was far too much for Huntington Station, so we coordinated with even more people and became a hub of food distribution across Long Island - Farmingville, Bayshore, Brentwood, New Castle, Glen Cove," Dan explained.  
"The greatest joy of all of this is that it was really a community effort - many volunteers were from churches and some just from the neighborhood. The Jewish community was deeply involved. Working in the kitchen at St. John's was a vital first step. We had Catholics, Assemblies of God, Pentecostals, Baptists. I see this as a way that God can work through all of us – serving the people who need it."
Dan admittedly does not have a clear understanding of how many people have been impacted, and notes that, one day, he'll try to run the numbers and figure it out. Calculating the scope of their impact simply could not be prioritized when faced with such great need.
With schools reopening and employment increasing, the need has slowed significantly and Project H.O.P.E. is working to direct people to the food pantries and social service organizations in their neighborhoods. As for Dan, he is looking forward to getting back to his retirement and his "real job" of watching his grandson and preparing for another grandson, come June.
This initiative was funded in part by Episcopal Ministries of Long Island's COVID-19 Frontline Funds. Episocopal Ministries is deeply grateful to Dan Deviney for this interview and to all the volunteers at Project H.O.P.E. for their ministry that truly brings the enduring love of Christ to our neighbors. You can learn more about how Episcopal Ministries is resourcing and amplifying ministry across Long Island on our website and make a gift to support this work.