Ann Seligson called every member of a senior group known as the "Silver Bells" at least once a week throughout the pandemic, when seniors were isolated and often alone. The Silver Bells, formerly known as SPARK (Senior Program of Activities, Refreshment and Knowledge) originated at Holy Trinity Episcopal Church in Valley Stream but needed to shut down due to Covid.
Image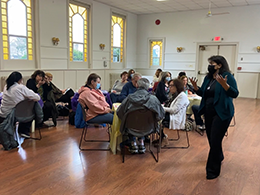 The club has now been completely revitalized since September 2021 and meets weekly in its new location, Trinity-St. John's Episcopal Church in Hewlett. Roughly twenty-five seniors gather each Thursday at noon—but the activities rarely repeat.
Ann, Program Director, is a former schoolteacher and has endless tricks up her sleeve. The group has stretched out for chair yoga, tested their knowledge with trivia around every holiday, feasted on corned beef and cabbage for Saint Patrick's Day, relaxed with facials, enjoyed concerts, created with sand art, and gotten competitive over connect four and knock hockey. In April, they enjoyed tacos, tres leches, and a Mariachi musical performance for "Cinco de Abril", in lieu of Cinco de Mayo.
Image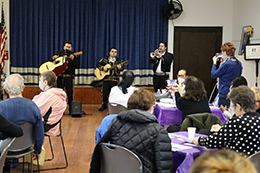 Ann was caught bringing people to the dance floor with her as the Mariachis played "La Bamba" and "Guantanamera," to the delight of the Silver Bells, who clapped along and joined in with their salsa steps. "I love making people happy. Isn't it obvious why I love to do this?" Ann remarks as the afternoon wraps up.
Before the Mariachis arrived, an attorney gave a presentation on financial topics particularly relevant for seniors: how to handle retirement savings, social security, and other highly pertinent issues. The group asked dozens of questions and even remarked that the presenter "was a lawyer, and a standup comedian." It was even a slight challenge to introduce the entertainment portion of the afternoon, as the seniors were so eager to hear more from the attorney.
The program encountered several issues during the lockdown. When it was finally safe and warm enough to gather outdoors and with masks on, Ann would host the Silver Bells in her own backyard—socially distanced—to maintain the bond they share. "It is important for someone to be checking in on them—we've become an extended family. Maybe people live alone and it's this type of weekly event that they look forward to. I do my best to ensure they learn and benefit from each program, and the group has continued to grow and flourish."
Image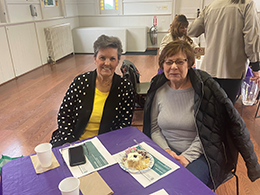 The Rev. Christopher Ballard, Trinity-St. John's pastor, is supportive of the group and has even been known to join them for a line dance on occasion. The Silver Bells were able to celebrate his birthday with an ice cream cake. Ann says that she and Father Chris "clicked right away" and that he's always willing to share a story—which the Silver Bells love.
Many people got to take home a small plate with extra desserts to share with their spouses at home. While walking out, one of the Silver Bells laughed, "I don't know what Ann will have next week, but we'll all love it."
---
Episcopal Ministries is thrilled to support the Silver Bells as part of it's "Fostering Solidarity and Belonging" ministry focus area. EMLI is grateful to Ann and Father Chris for their leadership of this revitalized and fun-loving group. Those interested in getting involved with the Silver Bells should contact Ann by calling (516) 410-5190.