During the height of the pandemic, you could have passed the historic St. Ann & the Holy Trinity Church in Brooklyn Heights and seen a single folding table with a few grocery bags of self-stable items operated by Lauren Bakoian, then Events and Space Use Manager at the church. 
Parishioners at St. Ann & the Holy Trinity (St. Ann's) have been dedicated to some iteration of a food ministry for several years. In 2020, an outreach committee video call was convened in response to the pandemic-driven spike in food insecurity. That led to Lauren single-handedly packing and distributing bags outside the church. The food ministry has since grown into a volunteer-run weekly pantry through which an assortment of fresh produce, canned goods, and grains are distributed to nearly 14 thousand neighbors each year.
Lauren took a deep dive when she was first charged with establishing a more consistent food ministry. "I just started interviewing people," she recalls. "The First Presbyterian Church, the Reform Church, and some other organizations were handing out grab-and-go bags on certain days of the week, so I started asking people what was in their bags. I mapped out what people might need based on what the other groups were giving out. And I wanted to have our pantry open on a day when the other pantries are closed." 
Lauren also spoke with the Rev. John Merz, Vicar at Ascension in Greenpoint and Co-Founder of another partner of Episcopal Ministries of Long Island, the North Brooklyn Angels. Their mobile soup kitchen (the "Angelmobile") regularly serves over 1,500 hot, healthy meals a week at eight locations in North Brooklyn. After doing her research and finding out what partnerships would be the best fit for the nascent food ministry at St. Ann's, it was time to turn to parishioners, neighbors, and to Episcopal Ministries for support. 
"Episcopal Ministries gave us the foundational support we needed to really set a plan for what we wanted this food ministry to look like. That foundational funding is what allowed us to grow, expand, and make firm commitments to local businesses that wanted to partner with us," remarks Canon John Denaro, the pro-cathedral's rector. 
Many of the pantry's 18-person strong, dedicated volunteer team live in the neighborhood and simply asked to volunteer after seeing the pantry in action. Tara is a Brooklyn native, recently retired, and eager to give back to her community.
"There is so much inequality in food and everybody deserves food. It's a human right – plain and simple. No one on this earth, especially not in this country, should be going without food," she asserts.
"I just love, love, love it [at the pantry]. When Lauren said she was moving to work at a different food ministry, I asked her what more I could do." 
Lauren is, in fact, starting a new position with North Brooklyn Angels. She led the food ministry at St. Ann's since its inception and has been passing along her knowledge and delegating responsibilities to volunteers like Tara and Nancy, who serves as Volunteer Coordinator. 
"I maintain the volunteer schedule and circulate it at the beginning of each month," explains Nancy. "And I check the expenditures every month to see that we're staying within our budget, and that is where the support from Episcopal Ministries has been extremely helpful." 
Nancy continues, "We are so fortunate to have Perelandra Natural Foods, a local food market, donating so much fresh produce. Amy's Bread, another local business, also donates a beautiful assortment of fresh bread each week. It's essential for us to have a lot of variety in our food because people come from different circumstances and cultures. Some may be unhoused, so they can't use anything that isn't already fully cooked. We try to give out canned goods that have a pull tab to open them, as people might not have a kitchen or can opener. Other people may have access to a small kitchen in a shelter, but they can't bring in any glass. In addition to the logistical components, we provide food that is nutritious, filling, and enjoyable. We try to offer as many choices as we can."  
Canon John sees this ministry – and other ministries and service organizations that utilize the church space – as a way of ensuring that St. Ann's is a place for parishioners and community members to build connections and friendships and to pursue meaningful volunteer work.
"Many of our pantry volunteers are not members of the church, but they came asking how they could help. Now they've come week after week, and they love doing it. They've grown to love each other." 
Image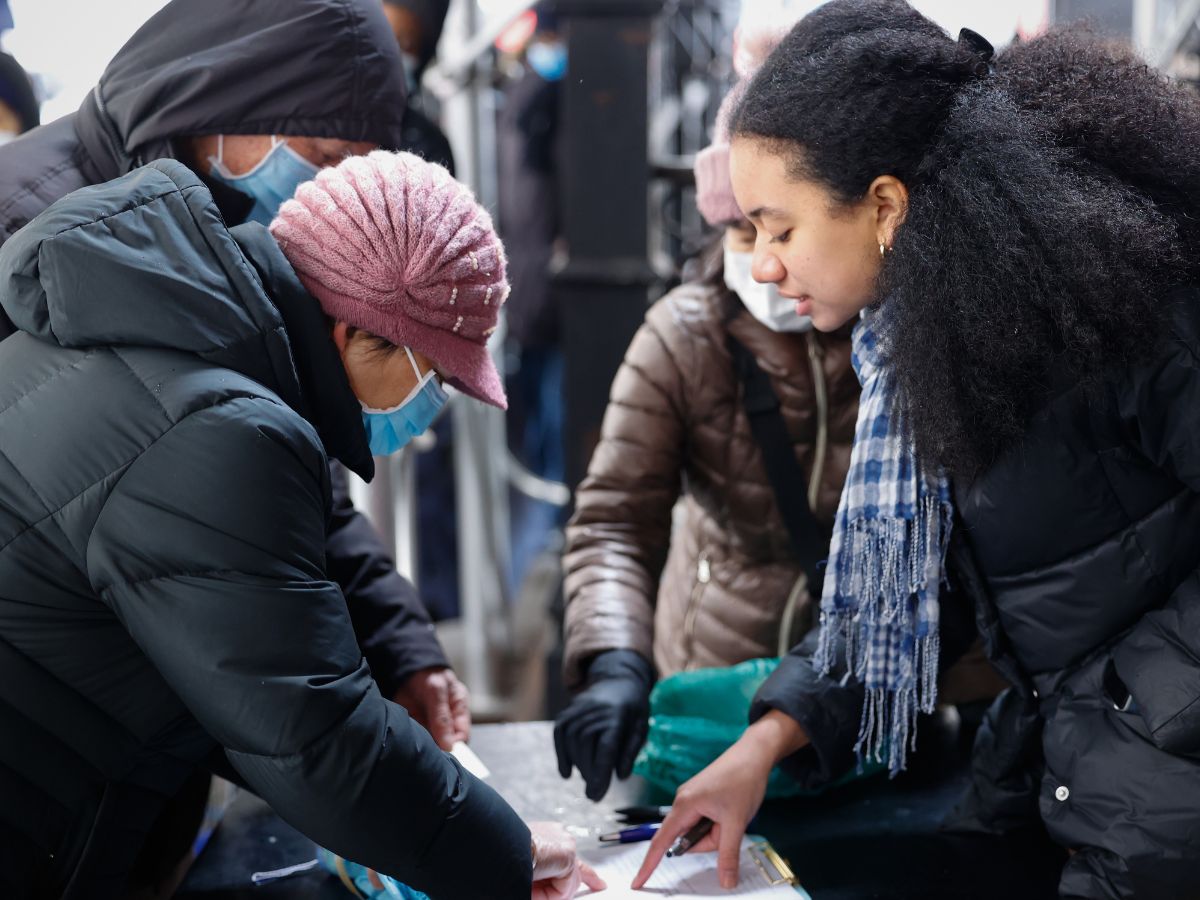 Jai and Amari are two high school students who attend Saint Ann's School, just down the block from the church. Jai welcomes people to the pantry and translates in Cantonese.  Amari breaks down dozens of boxes after the pantry concludes each week. They agree that one of their favorite parts of volunteering at the pantry during their free periods at school is meeting people in the neighborhood. Jai recalls one woman who is, "always excited and grateful to get fresh food," and adds that it's a "pretty universal experience that everyone is kind and grateful. It's just awesome to get to know some of these people, to remember what they like, and for them to remember you." 
"I have formed friendships. Not just acquaintances, but friendships," offers Pat, another volunteer who is newly retired, but who has always volunteered locally. "Nancy and I go to events at the Brooklyn Historical Society. Kara, another volunteer, is a musician so she's invited me to the Symphony and concerts at Juilliard. It's so simple – you just email people and say, 'I'm taking this balance course, or this is where I take my yoga classes,' and people join in. Many of us have socialized outside of our volunteer work at the pantry," Pat concludes.  
In addition to the friendships formed among the pantry's volunteers, parishioners at St. Ann's also share in the spirit of community that comes along with having this thriving ministry in their parish. Even if people can't volunteer due to their work schedules, parishioners will bring food to donate when they come to worship on Sundays. A basket for food donations remains at the entrance of church to be a consistent reminder of the parish's commitment to combat food insecurity in the neighborhood.  
"The pop-up pantry is a highly visible ministry of service to our neighbors," notes Canon John. "It's also a way for community institutions and businesses to engage in the necessary and urgent work of making sure everyone in our community has enough to eat. Local business, volunteers from the neighborhood and from St. Ann's School, and our own parishioners have really stepped up to the plate. Their support has been extremely generous." 
Canon John concludes,
We're praying in action. To me, this is prayerful. There is a prayerful embrace of this ministry. It has become one of the key ways we fulfill our mission of 'seeking and serving Christ in all persons and loving our neighbors as ourselves.'"