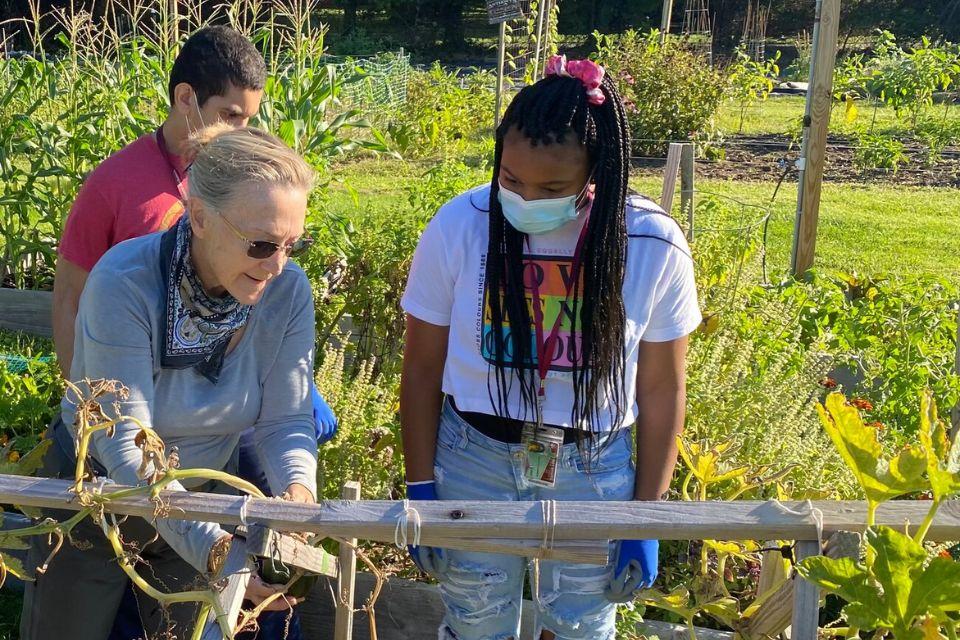 This article was originally published by the Islip Bulletin
Imagine a place where people of all ages and special needs could strengthen community and family ties, enjoy the physical and mental benefits of fresh air and exercise, and then donate their yield to individuals and families facing food insecurity.
Sounds like a win-win, doesn't it?   And that's exactly what the clergy, parishioners, and vestry of St. Peter's-By-The-Sea Episcopal Church, in Bay Shore, thought when Stephanie Campbell came to them with her idea to create a farm on their almost three acres of land on the parish grounds.
The garden is 100 percent organic, utilizing all-natural products, such as compost, mulch, organic plant food, and pest control.  These gardeners also utilize wide rows and raised gardening plots, which reduces the amount of walking and enhances air circulation and sunlight.
This ambitious project was started in 2019.
The garden received its first grant from the Episcopal Ministries of Long Island.  Other sponsors who donated time and/or money included (not a complete list):  Frank and Maria's Italian Market; Lowe's; Garcia Finishes; Belli Topsoil and Mulch; Roland P. Manella Tree Service; Sanchez Tree Services and Landscaping Company; and more.
They grew food and plants, including more than 30 pumpkins, and raised more than $300 for Long Island food banks.
Sometimes the hardest things end up bearing the sweetest fruits. Shortly after the garden began, COVID struck. Even 2021 was touch and go, with the intermittent cycles of opening and closing.
But, as Campbell pointed out, there was enormous support from the parish, Episcopal Ministries, as well those who gave hours of time and effort. Due to the adaptable farm lending itself, naturally, to the social distancing requirements, it was able to keep going—and growing.
Last year's impressive yield was 700 pounds of produce. Today, garden beds and plots house flowers, along with onions, kale, potatoes, carrots, and other varieties of produce.
Last autumn, The farm at St. Peter's (Victory Garden) was the recipient of the Bay Shore Lowe's Community Service Award.  As a result, nine volunteers from Lowe's came to build and fill garden beds, rebuild garden signs, make repairs where necessary—and even moved picnic tables.
Best of all, the garden yielded enough to donate to the pantry at St. Peter's, as well as pantries at Christ Church Brentwood and to the St. Patrick Soup Kitchen in Bay Shore.
People can purchase plots, which start at $100, depending on size.  Some, including faith-based organizations and Boy and Girl Scouts, are given them for free.
If you would like to purchase a plot, or to arrange a visit to learn about organic growing, please call Stephanie Campbell, garden coordinator, at 631-0051 ext.157 or 631-553.1342.  You can also email her at stpetersfarmbayshore@gmail.com.