Anyone who has ever worked at a thrift store can tell you about the myriad levels of organization and community partnerships that are necessary to keep the store running smoothly. Mary Beth Dieterle, Thrift Store Manager at St. John's in Huntington, took on this role just over a year ago after her retirement from elementary school teaching. Mary Beth's practical organization and management skills, coupled with her deep care for all those around her, has pumped new life into this bustling thrift ministry. 
 When Mary Beth assumed the role, she was first determined to develop a practical system for organizing existing inventory and sorting incoming donations. "Part of the reason I knew I needed to organize was for volunteer retention. The store has a dedicated group of volunteers who each bring different talents. It's important to have a regular schedule and regular responsibilities to help volunteers remain dedicated to their work and the ministry overall."  
Image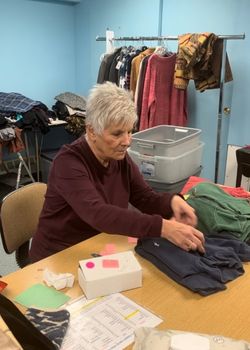 Now that the volunteer team have worked together to develop a management system, everyone knows their role and responsibilities. Volunteers determine what donated items are marked to be sold, based on the store's record of what type of inventory is most likely to sell. For example, St. John's thrift store does not often sell toys and clothes for children, so many of these goods will be donated to St. John's Nursery School, which operates adjacent to the thrift store, or they'll be donated to a local partner that can distribute the goods to those in need, including Christ Church in Brentwood or Tri Community & Youth Agency (Tri CYA).  
Mary Beth refers to the next step of the sorting process as "making the store customer friendly." The thrift store mimics the layout and organizational model of any retail store: clothes are grouped according to type, style, size, and season. Clothing is pressed or steamed before it is displayed. Mirrors are hung in several locations, and the store has a curtain hung over a private dressing room. All these details make the store easy to navigate and, frankly, difficult to stop shopping in! 
In order to keep stock of how quickly inventory is sold, the store uses a color-coded tagging system. Items are color-coded based on the season and year they are displayed, so volunteers know approximately how long each item has been available to purchase. Items that don't sell within the appropriate season are discounted and moved to a clearance section. If they continue not to sell, they'll be donated.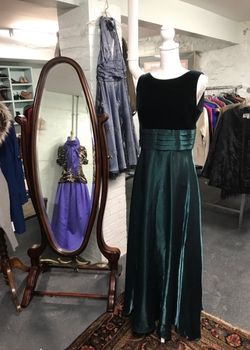 But the thrift store is more than just a tidy, well-organized, enjoyable shop to browse. Volunteers will tell you that the true value of the store is the connection made with the people who come in the door. This dedicated team knows many frequent shoppers on a first date basis; they know their needs and their children's favorite things. 
Rob Wheeler, Warden at St. John's, notes that Mary Beth truly treats the thrift store as a ministry of the church.
"It's not just about how much money we can make, but how we are meeting needs in the community," Rob notes of their efforts. 
"People come here to shop for a variety of reasons. We are ambassadors of St. John's, so we want everyone to feel welcome and we always treat them with compassion and kindness," notes Mary Beth.
"Anyone who walks through the door, and they bear the face of God." 
In their daily interactions with customers, volunteers must strike the right balance between meeting the needs of community members and treating everyone with dignity and respect. Mary Beth knows of a few clients who struggle with a lack of affordable housing, illness, or addiction. Some others come to the thrift store for connection and fellowship, rather than to shop. The volunteers know that they can offer items at a discounted rate for those in need, while ensuring that they cherish the dignity of people who may not be able to pay the original ticket price. 
In some cases, routine customers come into the thrift store needing additional support, including referrals for housing, social services, or protection from a violent situation at home. In these cases, St. John's has a strong relationship with Tri CYA that is mutually beneficial: social workers at Family Services can meet the holistic needs of thrift store customers who request additional help, and Family Services can send their clients to the thrift store knowing that they are in compassionate hands. 
The thrift store also offers spiritual care to its volunteers and visitors. While not all volunteers attend St. John's, or practice a faith at all, the spirit of love and fellowship is present in all of them. Father James Reiss, Curate, leads prayer with the volunteers who wish to participate before the thrift store opens each day. Mary Beth remarks that these moments of prayer have profoundly impacted her and the other volunteers: "Not all our volunteers receive spiritual care from their own priests or from anyone really, but they know they have that kind of support here if they want it." 
The thrift shop is located at St. John's Episcopal Church in Huntington, and it is open on Tuesdays, Thursdays, and Saturdays from 12-3 pm. All those interested in volunteering should contact Mary Beth at mbdieterle@yahoo.com.