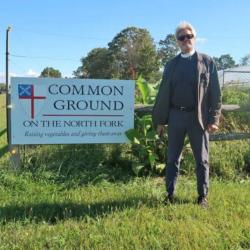 Affiliated Parish
Holy Trinity, Greenport & Church of the Redeemer, Mattituck
Common Ground Garden "raises vegetables and gives them away" on the North Folk of Long Island. 
It was inspired by the observation that many farmworkers in the area work in vineyards, but can't afford the local organic produce sold at neighborhood farm stands.
The garden began as a church project with the vision of inviting in the whole community. The 50-by-100 foot garden plot, donated by Treiber Farms, now has 26 garden beds and various local organizations grow vegetables to donate to the community.
A lot of their produce goes to Center for Advocacy, Support and Transformation in Southold. They also donate to Centro Franciscano in Riverhead, a ministry of the Episcopal Diocese of Long Island. According to the Rev. Joslin, some of the produce also goes to the small pantries outside of Holy Trinity Episcopal Church and Church of the Redeemer in Mattituck.