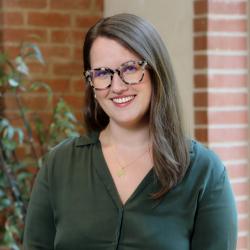 Mary Grace Puszka is a communications expert with seven years of experience professionally managing digital and traditional communications for faith-inspired nonprofits. Her work centers unique stories of impact that strive to shift cultures and bend our collective path closer towards an equitable, just, and peaceful world. She serves as Communications Manager for EMLI and also supports the Diocesan Office of Communication Ministry.
Mary Grace holds a B.A. in Political Science with a minor in Religious Studies from Stonehill College. Prior to joining the team at EMLI, she served as Communications Officer for an interfaith, international peacebuilding organization.
Mary Grace has completed fellowships with both the Ministerio de Educación Nacional de Colombia and the Andi Leadership Institute for Young Women in Peacebuilding. She has designed and taught peace-centric curricula to hundreds of adolescent students in both Colombia and South Korea. She is an outdoor and travel enthusiast and enjoys technical hikes, swimming, and kayaking, often with her husband, Rob.