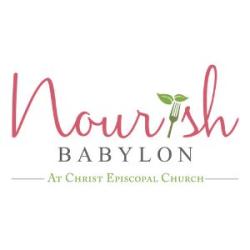 Contact Information
Diane Gaidon
Affiliated Parish
Christ Church Babylon
Nourish Babylon is a weekly community meal ministry that has pledged to create a fine dining, restaurant-style experience for its guests. They serve healthy and nutritious meals in an atmosphere of dignity and love. Equally important is the ministry's emphasis on fellowship and companionship and our commitment to connect others to resources and supports as needs are identified.
In addition to the meal service, the Nourish Babylon Garden contributes fresh organic produce to the meals and donates surplus crops to local food pantries, promoting access to healthy food in the community. Over time, the ministry has evolved to connect guests to social services, and its long-term vision is to provide training and employment opportunities to transform lives and foster self-sufficiency among its guests.
Episcopal Ministries supported the founding of Nourish Babylon with both a grant and a network of community resources over eight years ago. More recently, Episcopal Ministries is supporting a paid part-time Lead Gardener to expand the garden ministry. This investment will ensure the ministry's longevity, increase the yield of fresh produce for the community meals, and support job training and employment opportunities for some of Nourish Babylon's guests experiencing homelessness. By empowering guests with job opportunities, the ministry aims to create transformational change in their lives and break the cycle of homelessness.
The impact of this effort will be significant, as the increased yield of fresh and healthy foods will improve the nutritional intake of the target population. Moreover, providing employment opportunities has the potential to positively alter the trajectories of lives and elevate the life circumstances of some of the guests, fostering self-sufficiency and personal growth.
Nourish Babylon's mission of connecting neighbors with resources, supporting the vulnerable, and fostering community empowerment aligns with the spirit of faith and love, making them a lasting positive force that is changing the lives of those served.