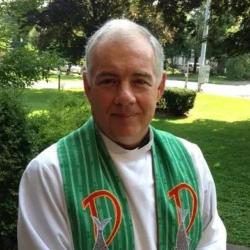 The Rev. Duncan A. Burns has served as Rector of St. John's, Huntington since 2014. Fr. Duncan graduated from Bay Shore High School, Colgate University (Bachelor of Arts), and Seabury-Western (Master of Divinity). Fr. Duncan was ordained a priest on January 17, 2004 by Archbishop Desmond Tutu. He is a proud citizen of the Muscogee Creek Nation. Fr. Duncan served at Historic Christ Church in Alexandria Virginia from 2003-2005 and as rector of St. John's Episcopal Church in Kingston, New York from 2005-2014. 
He currently serves as the treasurer of Episcopal Ministries. He was appointed on the Board of Directors of Episcopal Ministries of Long Island in 2015 and was elected to the board by the convention in 2016.  
He has been married to Barbara McCartney Burns since 1982 and has three children.