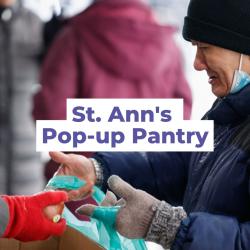 Affiliated Parish
St. Ann & the Holy Trinity Church and Pro-Cathedral
Located in the heart of Brooklyn – at the "intersection of faith and culture," the St. Ann's Pop-up Pantry addresses the immediate needs of food insecure neighbors by providing essential food items, while embracing the diverse backgrounds and cultures of their community. The pantry operates in the narthex of the church and outside the church doors, making a true visual representation of bringing the love of Christ "from pew to public square." Volunteers at the pantry range from local high school students to recent retirees, and the pantry relies on strong, generous relationships with local grocery stores, bakeries, and parishioners to keep their pantry stocked with nourishing produce, fresh bread, and shelf-stable, culturally appropriate items. Last year, the pantry was open every single Tuesday and shared food with over 12,000 neighbors.  
The pantry is open Tuesdays from 10:30 am to 12 noon at the entrance of the church at Clinton and Montague Streets in Brooklyn Heights. We currently provide nutritious food to some 300 people each week, and the need for food assistance shows no sign of slowing down!
We welcome the support of the community to keep the pantry sufficiently stocked. Guests are offered purchased and donated fresh produce and other food, a choice of grains (pasta, rice, quinoa) and proteins (beans and canned tuna) as well as other items upon request.