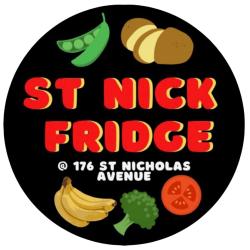 Contact Information
Vince Anderson
Affiliated Parish
Iglesia de la Santa Cruz + Bushwick Abbey
The St. Nick's Fridge, a 24/7 food pantry and community refrigerator owned and operated by members of the local Bushwick community, was honored on October 12th during a "Celebration of Ministry," hosted annually by Episcopal Ministries of Long Island. 
The St. Nick Fridge is a community project originating from Iglesia de la Santa Cruz and Bushwick Abbey, in partnership with Mayday. Pandemic-driven food insecurity was the catalyst for the expansion of the feeding ministry, which initially was a "take what you need, leave what you can" Tiny Purple Pantry, that remains outside the church next to the industrial-size fridge. 
Even before the pandemic, Bushwick residents weren't getting enough healthy food. The demand for affordable, healthy food increased dramatically during the lockdown. When people began to lose jobs, the nave of the church became the safest place to distribute food to large groups of people during the peak of the pandemic. The program grew rapidly, encouraging new partnerships with local organizations with expertise in food distribution, including the North Brooklyn Angels (which also received start-up funding from EMLI in 2015) and St. John's Bread & Life. 
The Rev. Nell Archer, Vicar of Iglesia de la Santa Cruz and Bushwick Abbey, and Vince Anderson, Minister of Music and Community Arts, coordinate the flow of food donations and volunteers that have made the fridge a community hub.   
"One of the great things about the fridge is that it doesn't belong to the church. It belongs to the community and our neighbors have truly embraced it as their own," says Anderson.  
Ruth Ibanez, a local resident who frequents the fridge said, "These are good people. They don't care if you attend the church or if you practice any religion. They give you what you need." 
Anderson wants to remind community members that pandemic-driven food insecurity is far from over. With raising inflation, he's seen the lines for food get longer and the food donations go quickly. Additionally, generosity has gone down since people assume that we're out of the worst of the pandemic.  
You can support the St. Nick Fridge by making a financial gift. If you're local and interested in getting involved, please email stnickfridge@gmail.com.